DMV Smog Check
$20 OFF Smog Check with Smog Coupon

STAR Certified smog check station to perform all DMV smog checks, Smog Test, Smog Check on all vehicles with Smog Check Coupons, smog inspection, Smog Test only, smog check Out of state vehicle registration, Diesel smog smog check, smog check, Registration renewal smog check, Gross polluter certification, Change of ownership smog test and smog check coupons.
About us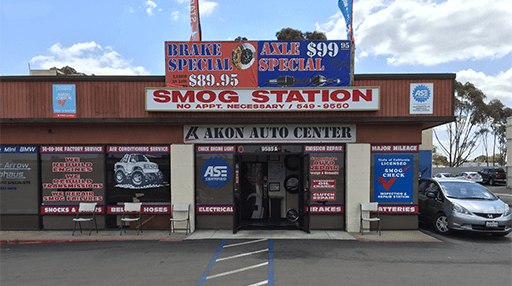 Our Smog Center :
We make it our mission to provide quality automobile maintenance and service to the community of San Diego. We ensure that your car runs smoothly on the road and performs better. You can be rest assured that our team of expert mechanics will solve all your automotive problems with utmost care. Your vehicle is in good hands!
Smog Check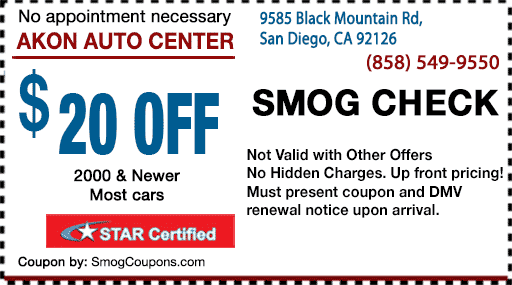 Smog Coupon :
STAR Station
Out of State smog test
Diesel Smog Check
Title transfer smog test
Vehicle registration smog
Gross Polluter certification
Cheap smog test in San Diego, CA
Star Certified Smog Check
Smog Location
Akon Auto Center :
9585 Black Mountain Rd
San Diego, CA 92126
Call now: (858) 549-9550
Business Hours:
Mon-Fri: 8 AM – 5 PM
Sat: 8 AM – 3 PM
Sunday: Closed
Full Service Automotive Shop
Akon Auto Center  Automotive facility has been in business for nearly 20 years. We are a full service automotive shop that has no limits. From Smog Inspections to Engine repairs, we are your One Stop Auto Shop. We will work on any Make and Model of car, we don't discriminate. We hope that you bring your vehicle in and let our expert staff make your experience a Joyful one.
Best Auto Repair Services in San Diego, CA
Here at Akon Auto Center, our number one goal is to be San Diego's best One Stop Auto Care facility. Anything from oil changes to complete engine overhauls or Smog Inspections/Repairs, our friendly and experienced staff will do everything possible to make sure that your visit with us is a pleasant one. We are here to provide you exceptional service at an incredible price.
We hope to make your visit at Akon Auto Center the most convenient and knowledgeable experience that you have had at any repair facility. With any service, we provide a Free 38 point inspection that shows you in detail what issues your car may have, and we offer a variety of avenues to help fix the vehicle, to make sure you're driving a safe and reliable vehicle. Upon receiving your complimentary inspection we take you to your vehicle so you can physically see what parts need to be repaired or replaced, and if you wish to keep your old parts we will gladly let you take them off our hands.
If ever you have a question don't hesitate to Contact Us, and we will be more than happy to answer any questions that you have. We look forward to seeing you for your next service.